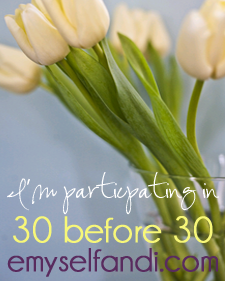 Elizabeth has posted a new give away on her blog for participants of the 30 before 30 challenge. I always love the opportunity to win free things, so I will update my 30 Before 30 list for y'all and hopefully win a beautiful new accessory!
My 30 before 30...
1. Take cooking classes
2. Finish making a quilt
3. Read the whole Bible
4. Become a dog owner
5. Move with Marty to a brand new place for us both
- FINISHED- we moved 14 hours away from both our families to St. Louis this summer
6. Stop biting my nails
7. Sew a piece of clothing
8. Grow a vegetable/ herb garden
9. Kick the diet coke habit= 1 diet coke/day for 30 days straight
- DEFINITELY STILL TRYING
10. Read 10 American fiction classics
11. Regularly write letters to friends far away and close by
12. Learn to golf
13. Learn to cut Marty's hair
- FINISHED
14. Get professional "family" portraits made (just Marty and me)
- IN OCTOBER :)
15. Make jelly/jam
16. Drive cross- country
17. Host baby shower for a good friend
18. Create a wedding album
19. Go away with Marty for a 1 week vacation
20. Pay off the CRV
- COMPLETED
21. Re-watch all 7 seasons of Gilmore Girls
- ON SEASON 6
22. Visit Nashville, country music capital :)
23. Find a regular walking buddy
24. Donate my hair to Locks of Love
25. Go on a vacation with friends
- COMPLETED- Spring Break to OBX this past March with college friends
26. Watch Marty graduate from Seminary and be ordained
27. Throw a bridal shower for my sister Bethany
28. Take tennis lessons in a cute tennis skirt
29. Buy a house
30. Become a Mama/ Start trying
Still working on a lot of these, and some will not be possible for a few years. I hope y'all are enjoying this lazy Sunday afternoon. It is really cold here in Missouri today. We woke up with the windows open and couldn't get out of bed it was so cold! I changed out our closets yesterday, so from now on it is long pants and Dansko (cowboy boots for Marty) weather. Enjoy a cozy, relaxing Sunday!